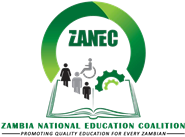 The Zambia National Educational Coalition (ZANEC) is pleased to join the rest of the world in commemorating International Literacy Day. This day is important in the education calendar as it provides us with the opportunity to reflect on the importance of education to human and economic development. Literacy, which simply refers to one's ability to read and write should be a must especially in this era where almost everything is being digitalized.
This year's theme, which is "Promoting Literacy for a World in Transition: Building the Foundation for Sustainable and Peaceful societies" is very timely. Indeed, the world is transitioning from the impact of the COVID 19 on education. As we transition into the post COVID 19 period, it is important to build on foundations that will ensure we achieve the Sustainable Development Goals (SDGs) by 2030. To achieve this, we need to increase investment in literacy and numeracy in a way that promotes values of a sustainable and peaceful society. Therefore, there is need to embrace blended learning narrowing down the digital divide between the vulnerable and privileged population to ensure equitable access to digital platforms both for learning, Communication and accessing economic opportunities. Literacy skills are expanding and evolving as people engage more and more with information and learning through digital technology. Zambia has no choice but to invest in equitable information communication technologies that can facilitate the easy acquisition of literacy skills.
Literacy plays a significant role in a person's wellbeing as it empowers and liberates people through improving their lives by expanding capabilities which in turn reduce poverty, increase participation in the labour market and has positive effects on health and sustainable development. It should be noted that nations with high literacy rates are also making significant progress in their social, economic, cultural and political development. For example, literate women have a positive ripple effect on all aspects of development. They have greater life choices for themselves and an immediate impact on the health and education of their families which in turn impacts positively on the society at large.
However, we note with concern that Youth and Adult Literacy Education continue to be the least resourced subsector in the Education and Skills Sector. Evidence from the analysis of the 2023 National budget allocation to the Education and Skills Sector show that only 0.02% was located to this important subsector. There is no increase that was registered from the allocation for 2022. meaning that, as a country, we have not prioritised investment in the Youth and Adult Literacy Sector despite its immense potential.
We would therefore like to take this opportunity to make the following recommendations to our Ministry of Education. We recommend that the Ministry must consider:
•Employing adult education graduates to support the delivery of adult literacy in adult literacy centres.
•Increase the provision of training equipment as well as teaching and learning materials (radios, books, charts) in adult literacy centres.
•Purchase lighting equipment for centres such as solar lamps and solar panels.
•Budget for salaries for adult literacy instructors on annual basis.
•At least 5% of the teachers to be deployed next year should be adult literacy teachers.
•The Ministry should construct more centres for YALE and lobby for CDF investment towards building adult literacy centres.
Finally, ZANEC would like to wish all of you a reflective, happy and fruitful International Literacy Day commemoration.
For/ZANEC
George Hamusunga
EXECUTIVE DIRECTOR
Find Us on Social Media