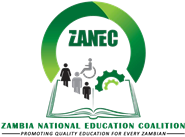 The Zambia National Education Coalition (ZANEC) is a Coalition of 91 non-state actors working in the Education and Skills Sector. Our mission is to serve as a coalition of education organizations promoting quality and inclusive education for all through research, influencing education policy and building capacities of education CSOs.
As an equal opportunity employer, ZANEC is inviting applications from suitably qualified Zambians to apply for the position of Programmes Manager
DUTIES AND RESPONSIBILITIES:
Key Result Area / Main Duties
Coordinate the implementation of ZANEC's programmes to ensure adherence to the Coalitions Strategic Plan.
Coordinate cross program and intra program work in order to ensure coherence in ZANEC's programming in line with the strategic plan.
Coordinate resource mobilization, planning and execution of ZANEC's capacity building strategies and Education for All (EFA) campaign activities.
Coordinate capacity development, assessment, monitoring and evaluation of initiatives by ZANEC members and ensure they are aligned to the EFA framework.
Monitor trends, developments and thinking of EFA, maintaining links with relevant scholars, activists, NGO's, education state actors and civil society experts in the country.
Supervise and monitor the implementation of ZANEC programmes to ensure that results are achieved.
Develop terms of reference and contracts for research consultants and ensure quality in their outputs and related deliverables.
Advise and make appropriate recommendations to the Executive Director on resource mobilization and implementation of the coalition's programmes and projects.
Ensure the timely submission of narrative progress reports of good quality to the board and respective cooperating partners and as need arises.
Perform any other duties as assigned by the Executive Director.
Key Accountabilities
Provide leadership to Programmes Department.
Provide technical support and backstopping to the implementation of the coalition's projects.
Participate in ongoing policy and legal review processes from the Education sector point of view.
Required Attributes, Experience and Qualifications
Degree in Education or equivalent preferably in Social Sciences. A post graduate academic qualification would be an added advantage.
Experience working in the NGO and education sector for a minimum of five years.
Excellent communication, negotiation, supervisory, and proposal writing skills.
How to apply
Interested applicants must send their application letters and complete Curriculum Vitae with full contact details of three referees addressed to:
The Executive Director
Zambia National Education Coalition
P.O. Box 30744
Lusaka
Email:  admin@zanec.org.zm
Closing date:  Friday 17th March 2023 at 17.00 hours Zambian time.
Find Us on Social Media