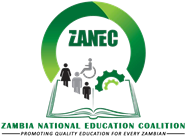 2nd January 2023
The Zambia National Education Coalition (ZANEC) is pleased with the timely release of release of the 2022 Grades 7 and 9 Examination Results that were announced statement by the Minister of Education Honorable Douglas Syakalima made on 30th December 2022.
After a thorough analysis of the results, we applaud the Ministry of Education for the efficiency in handling the Grades 7 and 9 examinations. We are pleased that there was an increase of 7.86% and 9.80% in the number of candidates that sat for both Grade 7 and Grade 9 examinations respectively in 2022 compared to 2021. This increase can be partly attributed to the free education policy that has removed the financial barriers at secondary school level.
ZANEC is also pleased that the absenteeism rate for grade seven candidates reduced by 1.60, while that of grade 9 candidates reduced by 0.64. Other positive indicators include more girls completing Grades 7 and 9 as well as the ability by the Ministry of Education to have conducted leakage free examinations. We are also happy with the announcement by the Minister of Education that automatic progression from Grade 7 to Grade 8 will be abolished in 2023. This policy pronouncement is overdue as evidenced from the relatively poor Grade 7 results in which only 14.24% obtained division one, 27.03% obtained division two, 21.43% obtained division three and 37.30% obtained division four. Progression based on merit will ensure that those who proceed to grade 8 meet the required learning outcomes.
It is however sad to note that only 54.16% obtained Grade 9 certificates in 2022 compared to 54.43% in 2021, while 36.51% obtained statement of results, representing   a decrease of 2.03%. This implies that 9.33% failed as they neither obtained certificates nor statement of results. However, we also note with sadness that the number of suspected examination malpractice at grade 9 for individuals was 30 and 17 whole centre cases, while two case were recorded for grade 7. We are however pleased that the Ministry has taken measures to ensure that the culprits are brought to book so that there is credibility in the examination process.
Finally, we would like to urge our parents and guardians to prepare adequately for the children's timely return to school in January 2023.
For/ZANEC
George Hamusunga
EXECUTIVE DIRECTOR
Find Us on Social Media